TAQA and ENGIE sign Water Purchase Agreement with EWEC for the 120 million imperial gallons per day RO desalination plant
Mirfa 2 Reverse Osmosis to become the UAE's third largest low-carbon intensive RO plant once fully operational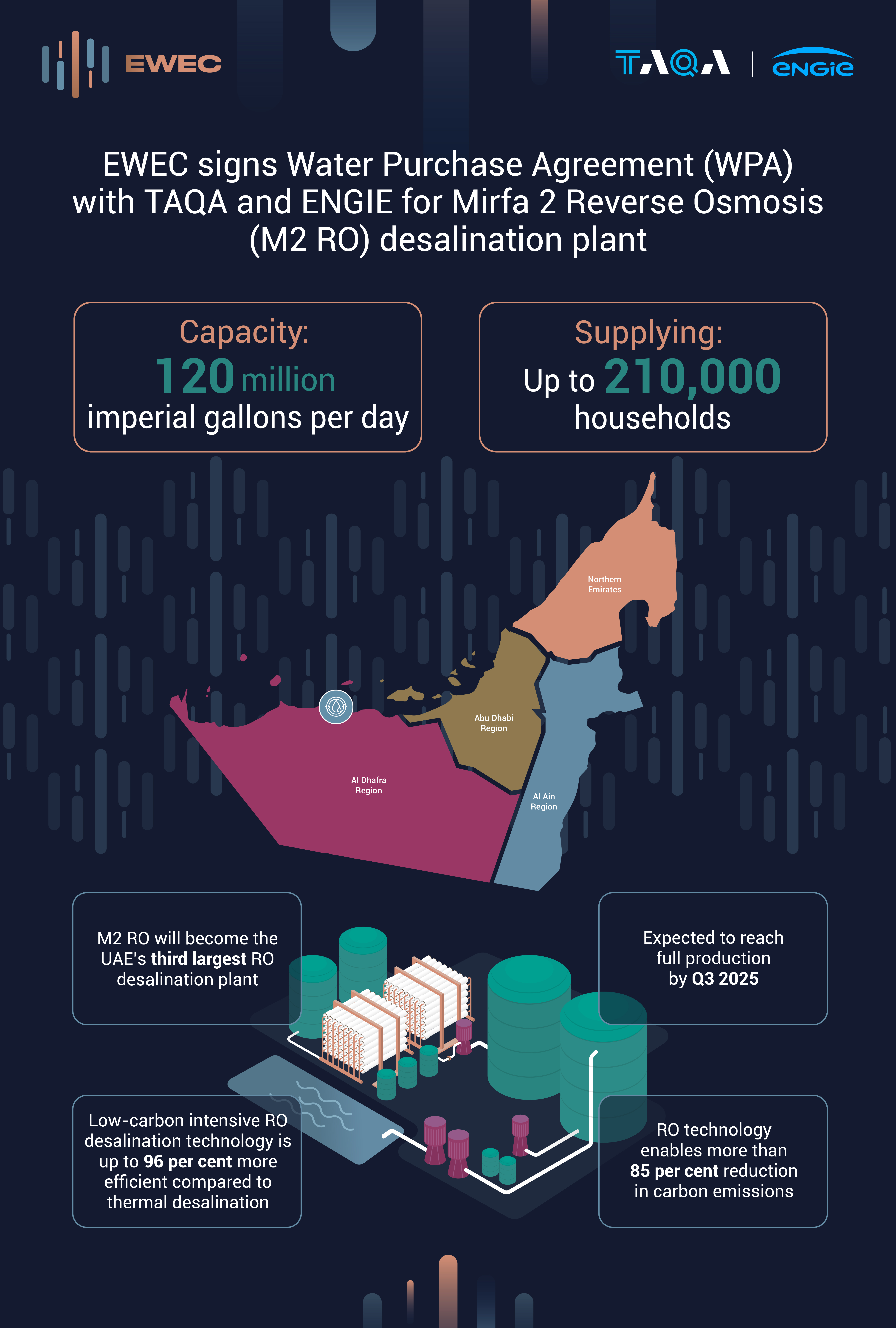 EWEC (Emirates Water and Electricity Company), a leading company in the integrated coordination of planning, purchasing, and supply of water and electricity across the UAE, today announced the award for its Mirfa 2 Reverse Osmosis (M2 RO) Independent Water Project. The project for the development of the low-carbon intensive RO desalination plant was awarded to a consortium consisting of ENGIE and TAQA. TAQA will take on the majority share of the equity in the project and hold a stake in the operations and maintenance company. Following the award, the project's Water Purchase Agreement (WPA) was signed between TAQA, ENGIE, and EWEC.
M2 RO will desalinate seawater using low-carbon intensive RO technology to produce up to 120 million imperial gallons per day (MIGD) of potable water, equivalent to approximately 550,000 cubic metres per day, sufficient to meet the water demand of up to 210,000 households in the Emirate of Abu Dhabi. Low-carbon intensive RO water desalination plants are up to 96 per cent more efficient compared to traditional thermal desalination plants, and enable a more than 85 per cent reduction in carbon emissions associated with water production.
Othman Al Ali, Chief Executive Officer of EWEC, said: "We look forward to this strategic collaboration with TAQA and ENGIE, which will see the development of the UAE's third largest low-carbon intensive RO water desalination plant. The development of the M2 RO water desalination project enables EWEC to further accelerate its strategic initiative of decoupling water desalination operations from power generation, and implement tangible and effective actions that contribute to the achievement of UAE Water Security Strategy 2036 and the UAE Net Zero by 2050 strategic initiative objectives. 
Once operational this project, along with our current and upcoming low-carbon intensive RO desalination plants, significantly empowers EWEC to manage and operate water desalination and power generation more efficiently and effectively. Using advanced techno-economic modelling to strategically plan the sectors capacity requirements, EWEC is continuing to invest heavily in the development of RO projects and by 2030 expect over 90 per cent of our water production to be via RO, resulting in the total carbon emissions associated with water production falling from 14.6 million tonnes in 2020 to 2.1 million tonnes by 2030, reinforcing our position as a leader in advancing sustainable, secure water and power supply in Abu Dhabi and across the UAE."
Farid Al Awlaqi, Executive Director of Generation at TAQA Group, commented: "As the low carbon power and water champion of Abu Dhabi, TAQA is proud to be a principal shareholder in the M2 RO project, which will be critical to supporting national decarbonisation efforts and long-term water security for the UAE. As a company anchored in ESG principles, this project is in line with our recently announced ESG strategy for reducing greenhouse gas emissions. As part of this strategy, we have committed to expanding the use of the highly efficient reverse osmosis technology and to decouple power and water production to reduce our carbon emissions from water desalination. The project also supports our growth ambitions to have water production using RO technology become more than two-thirds of our total capacity by 2030. TAQA will also be playing a role in the operations and maintenance of the plant, a key pillar of our strategy."
Frederic Claux, Managing Director, Thermal and Supply AMEA, ENGIE, said "As a leading actor in desalination and an expert in reverse osmosis technology, we are delighted to add M2 RO to our portfolio. This is a significant win for our regional business demonstrating the trust placed in us by government authorities and by our partners in supporting the growing demand for water while meeting the demands of a net zero carbon future."
Ahead of the project award and WPA signing, the submitted proposals went through a detailed technical and commercial evaluation process to select the best proposal. The M2 RO project will be 60 per cent owned by TAQA, while the remaining 40 per cent will be owned by ENGIE. The project's financial closure is expected to occur in Q1 2023, enabling initial water production in summer 2025, and full production by Q3 2025.
# # #
About Emirates Water and Electricity Company
Emirates Water and Electricity Company (EWEC) drives the planning, forecasting, purchase and supply of water and electricity in Abu Dhabi and beyond. EWEC performs its role as the sole procurer of water and electricity from independent producers, ensuring the short- and long-term balancing of bulk supply and demand for distribution companies. EWEC is part of ADQ, one of the region's largest holding companies with a broad portfolio of major enterprises spanning key sectors of Abu Dhabi's diversified economy. For more information, please visit www.ewec.ae.
About TAQA
Established in 2005, TAQA is a diversified utilities and energy group headquartered in Abu Dhabi, the capital of the United Arab Emirates, and listed on the Abu Dhabi Securities Exchange (ADX: TAQA). TAQA has significant investments in power and water generation, transmission and distribution assets, as well as upstream and midstream oil and gas operations. The company's assets are in the United Arab Emirates as well as Canada, Ghana, India, Iraq, Morocco, Oman, the Netherlands, Saudi Arabia, the United Kingdom and the United States. For more information, please visit: www.taqa.com and follow us @TAQAGroup on LinkedIn, Twitter, Instagram and YouTube. 
About ENGIE
Our group is a global reference in low-carbon energy and services. Together with our 101,500 employees, our customers, partners and stakeholders, we are committed to accelerate the transition towards a carbon-neutral world, through reduced energy consumption and more environmentally-friendly solutions. Inspired by our purpose ("raison d'être"), we reconcile economic performance with a positive impact on people and the planet, building on our key businesses (gas, renewable energy, services) to offer competitive solutions to our customers. Turnover in 2021: 57.9 billion Euros. The Group is listed on the Paris and Brussels stock exchanges (ENGI) and is represented in the main financial indices (CAC 40, Euronext 100, FTSE Eurotop 100, MSCI Europe) and non-financial indices (DJSI World, DJSI Europe, Euronext Vigeo Eiris - Eurozone 120/ Europe 120/ France 20, MSCI EMU ESG screened, MSCI EUROPE ESG Universal Select, Stoxx Europe 600 ESG, and Stoxx Global 1800 ESG).
For Media Enquiries, please contact:
Jonathan Kearney
Communications Manager