Clean Energy Certificates empower entities to meet their sustainability goals
Interested parties who would like to track and verify clean energy consumption invited to register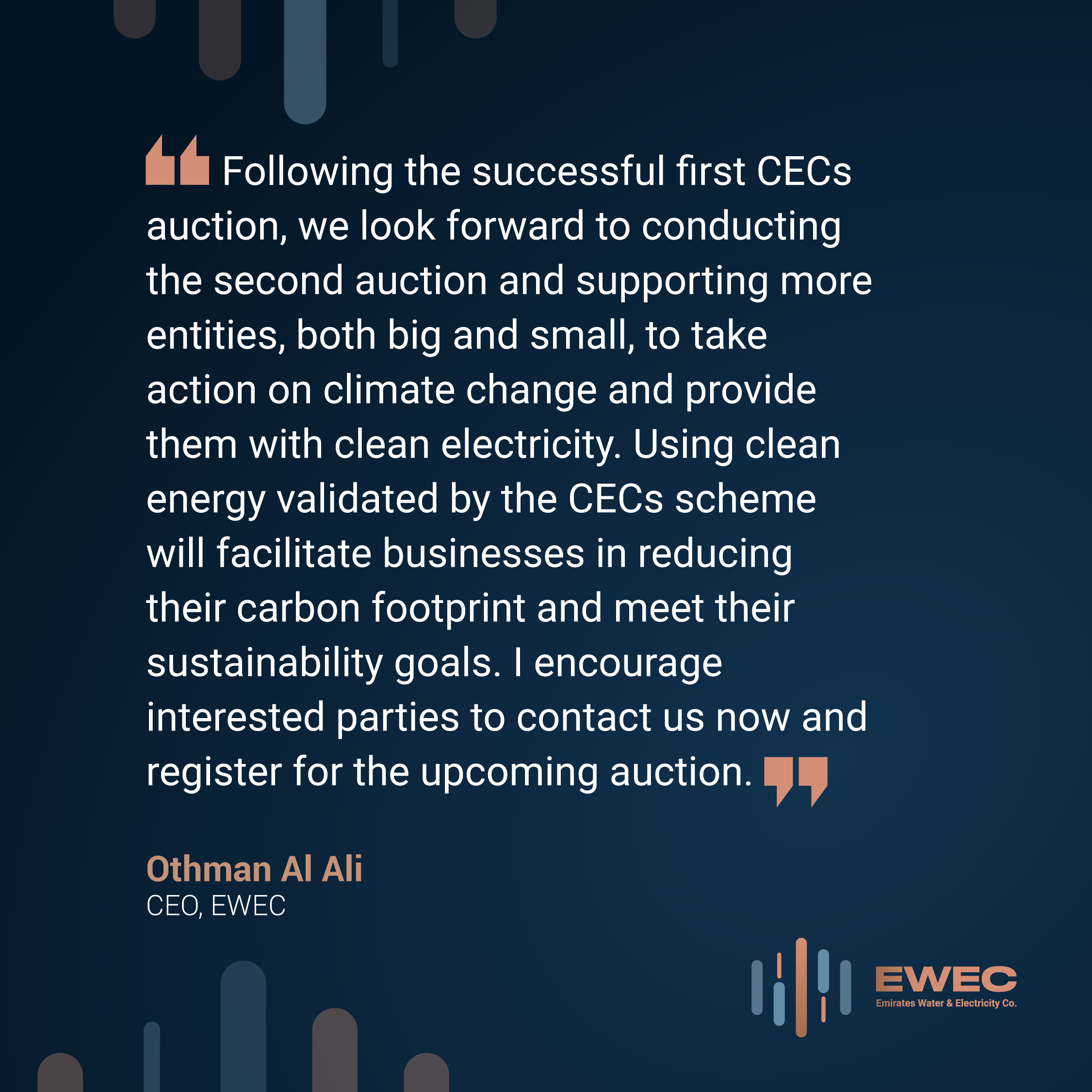 EWEC (Emirates Water and Electricity Company), a leading company in the integrated coordination of planning, purchasing and supplying of water and electricity across the UAE, today announced that it will conduct the second auction for Clean Energy Certificates (CECs) in Abu Dhabi, on 14 December 2021, following a successful first auction.
CECs empower Abu Dhabi companies to achieve sustainability goals, providing a mechanism to validate claims of producing and consuming clean electricity, while enabling them to reduce their carbon footprint. Notably, CECs will empower Abu Dhabi based entities to compete globally using internationally recognised certificates that confirm their green credentials.
Othman Al Ali, Chief Executive Officer of EWEC, said: "Following the successful first CECs auction, we look forward to conducting the second auction and supporting more entities, both big and small, to take action on climate change and provide them with clean electricity. Using clean energy validated by the CECs scheme will facilitate businesses in reducing their carbon footprint and meet their sustainability goals. I encourage interested parties to contact us now and register for the upcoming auction."
The Abu Dhabi Department of Energy (DoE) issued a regulatory policy for the CECs scheme in August, which for the first time globally, included CECs for power generated from nuclear energy. EWEC is one of the key parties enabling the implementation of Abu Dhabi's CECs scheme, acting as Single Registrant and auction operator to establish a primary market for this new instrument.
EWEC conducted the first ever CECs auction in September, and in October signed a landmark, strategic clean energy partnership with the Abu Dhabi National Oil Company (ADNOC) that will see up to 100 per cent of ADNOC's grid power will be supplied by EWEC's nuclear and solar clean energy sources.
CECs are issued by the DoE in units of 1 MW/h upon receiving a request from the Single Registrant and are currently the only accredited instruments in Abu Dhabi to prove ownership of the environmental and economic benefits achieved by consuming clean energy. Anyone can purchase these certificates to guarantee that the electricity they consume originates from a clean energy source such as solar or nuclear.
Registration to participate in the second CECs auction, taking place on 14 December 2021, is now open. If you would like to track and verify your clean energy consumption, please visit www.ewec.ae/en/CleanEnergyCertificates or contact EWEC's Clean Energy Certificates team at: CleanEnergyCertificates@ewec.ae
# # #
About Emirates Water and Electricity Company

Emirates Water and Electricity Company (EWEC) drives the planning, forecasting, purchase and supply of water and electricity in Abu Dhabi and beyond. EWEC performs its role as the sole procurer of water and electricity from independent producers, ensuring the short- and long-term balancing of bulk supply and demand for distribution companies. EWEC is part of ADQ, one of the region's largest holding companies with a broad portfolio of major enterprises spanning key sectors of Abu Dhabi's diversified economy. For more information please visit: www.ewec.ae.
For Media Enquiries, please contact:
Rima Ali
Communications Consultant
+971555910738