Investment in clean energy technologies to reduce CO2 emissions by 20 million tonnes
EWEC also plans major investment in reverse osmosis desalination capacity growth to boost efficiency, reduce cost of water production, and accelerate decoupling of electricity and water production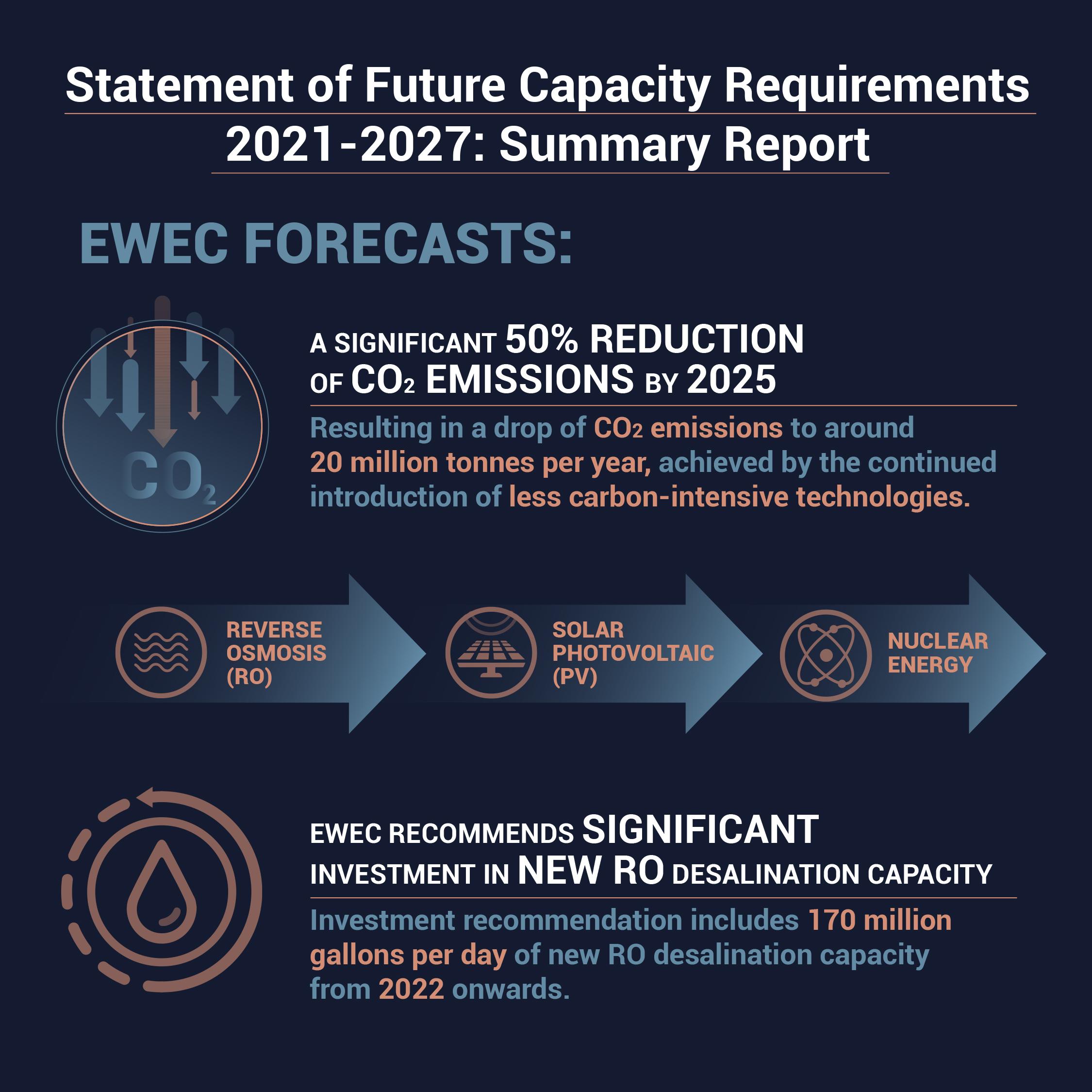 EWEC (Emirates Water and Electricity Company,) a leading company in the integrated coordination of planning, purchasing and supply of water and electricity across the UAE, today released its latest Statement of Future Capacity Requirements Summary Report for Abu Dhabi's future water and electricity production. The statement forecasts a significant 50 percent reduction in carbon dioxide (CO2) emissions from a shift towards more sustainable water and electricity production by 2025, in addition to recommending a major investment programme in new reverse osmosis (RO) water desalination projects.
The statement, published by EWEC and approved by the Abu Dhabi Department of Energy (DoE), forecasts water and electricity demand for 2021-2027, and sets out the decision-making process regarding the future production capacity requirements for Abu Dhabi and beyond, with recommendations for planning decisions to be taken in the coming year. This is the first time the statement summary report has been made available publicly. 
Othman Al Ali, Chief Executive Officer of EWEC, said: "At the core of EWEC's business is sustainable, efficient water and electricity production as we continue to ensure supply security, and the Statement of Future Capacity Requirements Summary Report is a key reference for the likely future of water and electricity requirements. Our strategic decisions to date, and strategic recommendations for the future, show that increasing investments in renewable energy projects will allow us to make a very significant impact in changing the energy sector and prioritising renewable production technologies. We are the leader in developing solar power projects, and we are looking forward to adding further RO capacity to lead the region in sustainable water production. Combined with the addition of nuclear power to the grid, we can significantly reduce carbon emissions and make the UAE a beacon for sustainable, utility scale water and energy production." 
Using analytical techno-economic modelling tools across a number of narrative based scenarios, the recommendations in the statement have been based on updated long-term demand forecasts projecting economic growth. Under the base case scenario, it is forecast that investment made to date in solar Photovoltaic (PV) projects, clean energy projects such as nuclear energy, and RO desalination coming on-stream in the coming years, expected CO2 emissions will drop to around 20 million tonnes by 2025 from more than 40 million tonnes in 2020.
EWEC has already implemented strategic plans that have reduced emissions. The company's average CO2 intensity from electricity generation fell in 2018 to 350g per kilowatt-hour (kWh), 15 percent down from 412g/kWh in 2015 due to the commissioning of new energy-efficient plants.
Water Desalination Capacity Growth 
EWEC's Statement of Future Capacity Requirements recommends significant investment in new Reverse Osmosis (RO) desalination capacity. This will not only increase EWEC's water desalination capacity, but also boost the system efficiency and reduce the overall cost of production by increasing the reserve margin of installed desalination capacity above peak demand from 2022 onwards.
The investment recommendation includes 170 million gallons per day of new RO desalination capacity to serve existing demand.
Bruce Smith, Forecasting and Planning Director at EWEC, said: "We are committed to supporting the government's UAE Water Security Strategy 2036 and UAE Energy Strategy 2050 to help it achieve its goals to reduce the energy sector's carbon footprint. As we forecast water and electricity demands over the coming years, we can see that with strategic investment in renewable and clean energy technologies we can ensure the UAE is on track to continue to reduce its emissions in the energy sector. Importantly, we can also see that increased investment in RO projects means we can lead the region in decoupling water and electricity generation, using significantly less energy-intensive technology to produce water, reduce carbon emissions, and reduce costs."
The Statement of Future Capacity Requirements Summary Report can be downloaded from the EWEC website here.
 
# # #
About Emirates Water and Electricity Company
Emirates Water and Electricity Company (EWEC) drives the planning, forecasting, purchase and supply of water and electricity in Abu Dhabi and beyond. EWEC performs its role as the sole procurer of water and electricity from independent producers, ensuring the short- and long-term balancing of bulk supply and demand for distribution companies. EWEC is part of ADQ, one of the region's largest holding companies with a broad portfolio of major enterprises spanning key sectors of Abu Dhabi's diversified economy. For more information please visit www.ewec.ae.
For Media Enquiries, please contact:
Rima Ali
Communications Consultant
+971555910738