41 developers and consortiums submitted Expression of Interests, with 19 qualifying to RFP stage
The project consists of two standalone low-carbon intensive reverse osmosis water desalination plants to provide a combined total of 100 million imperial gallons per day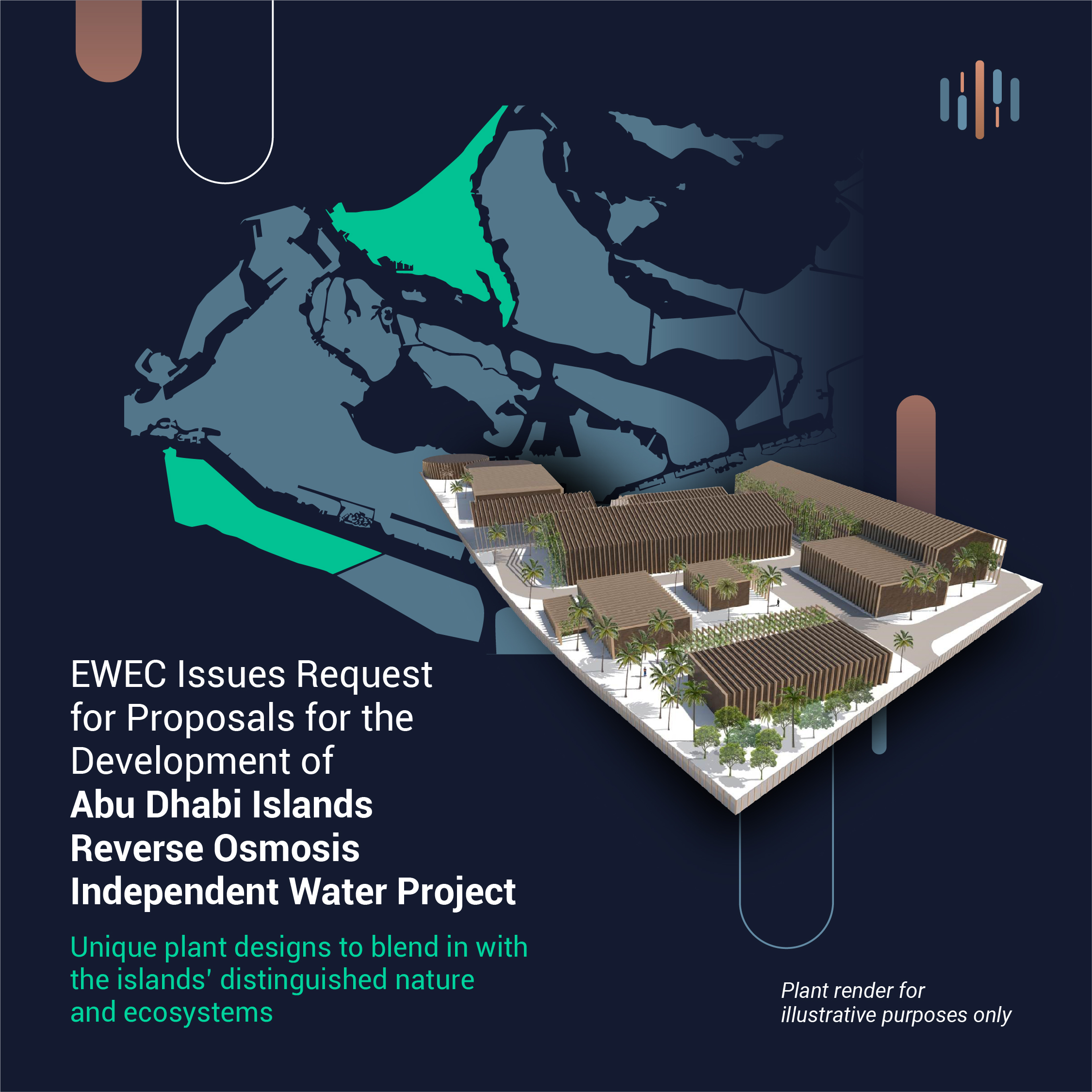 EWEC (Emirates Water and Electricity Company), a leading company in the integrated coordination of planning, purchasing, and supply of water and electricity across the UAE, has issued a Request for Proposals (RFP) to qualified developers and developer consortiums that expressed interest in developing the new Abu Dhabi Islands Reverse Osmosis (RO) Independent Water Project (IWP), having qualified for the RFP stage after submitting their Statements of Qualification.
The Abu Dhabi Islands RO IWP project consists of two standalone greenfield low-carbon intensive RO seawater desalination plants to be located on Saadiyat Island and Hudayriat Island. Together, both plants will provide a combined total of 100 million imperial gallons per day (MIGD), equivalent to 455,000 cubic metres of potable water per day.
Othman Al Ali, Chief Executive Officer of EWEC, said: "Low-carbon intensive RO water desalination technology is a key innovation that advances our strategic initiative of decoupling power and water generation capacity. Once complete, the Abu Dhabi Islands RO project will become our seventh and eighth RO plants, enabling us to significantly shift our fleet to a water production portfolio that actively contributes to the decarbonisation of the sector, support UAE Water Security Strategy 2036, UAE Energy Strategy 2050, and the UAE Net Zero by 2050 strategic initiative objectives. We look forward to receiving competitive bids from the qualified companies as we move forward with the project development."
The low-carbon intensive RO desalination project will also see EWEC collaborating with Modon and Aldar Properties to develop and implement a unique design to cover the two desalination plants in a way that makes them blend with the islands' distinguished nature and ecosystem. The design of the two plants will also feature an architectural visual enhancement that reflects the sustainable RO technology model used in the Abu Dhabi Islands RO project.
The RFP is being issued to bidders that passed the qualification process following the Expression of Interests (EOI) stage that took place in September 2022. A total of 41 companies and consortiums submitted EOIs, while 19 companies and consortiums qualified for the RFP stage after submitting Statements of Qualification. The RFP provides detailed requirements and proposed technical parameters for the project to support companies and consortiums in developing their submissions.
The project will involve the development, financing, construction, operation, maintenance, and ownership of the plant and associated infrastructure. The successful developer or developer consortium will own up to 40 per cent of the entity, while the remaining equity will be held indirectly by the Abu Dhabi Government.
Responses to the RFP are expected by the end of Q4 2023. EWEC will then hold a public event to confirm the companies and consortiums who have submitted proposals.
# # #
About Emirates Water and Electricity Company
Emirates Water and Electricity Company (EWEC) drives the planning, forecasting, purchase and supply of water and electricity in Abu Dhabi and beyond. EWEC performs its role as the sole procurer of water and electricity from independent producers, ensuring the short- and long-term balancing of bulk supply and demand for distribution companies. EWEC is part of ADQ, one of the region's largest holding companies with a broad portfolio of major enterprises spanning key sectors of Abu Dhabi's diversified economy. For more information please visit www.ewec.ae.
For Media Enquiries, please contact:
Jonathan Kearney
Communications Manager