M2 low-carbon water desalination plant will provide up to 80 million gallons per day, sufficient to meet the water demand for over 140,000 households
M2 will improve the security of water supply in the Emirate of Abu Dhabi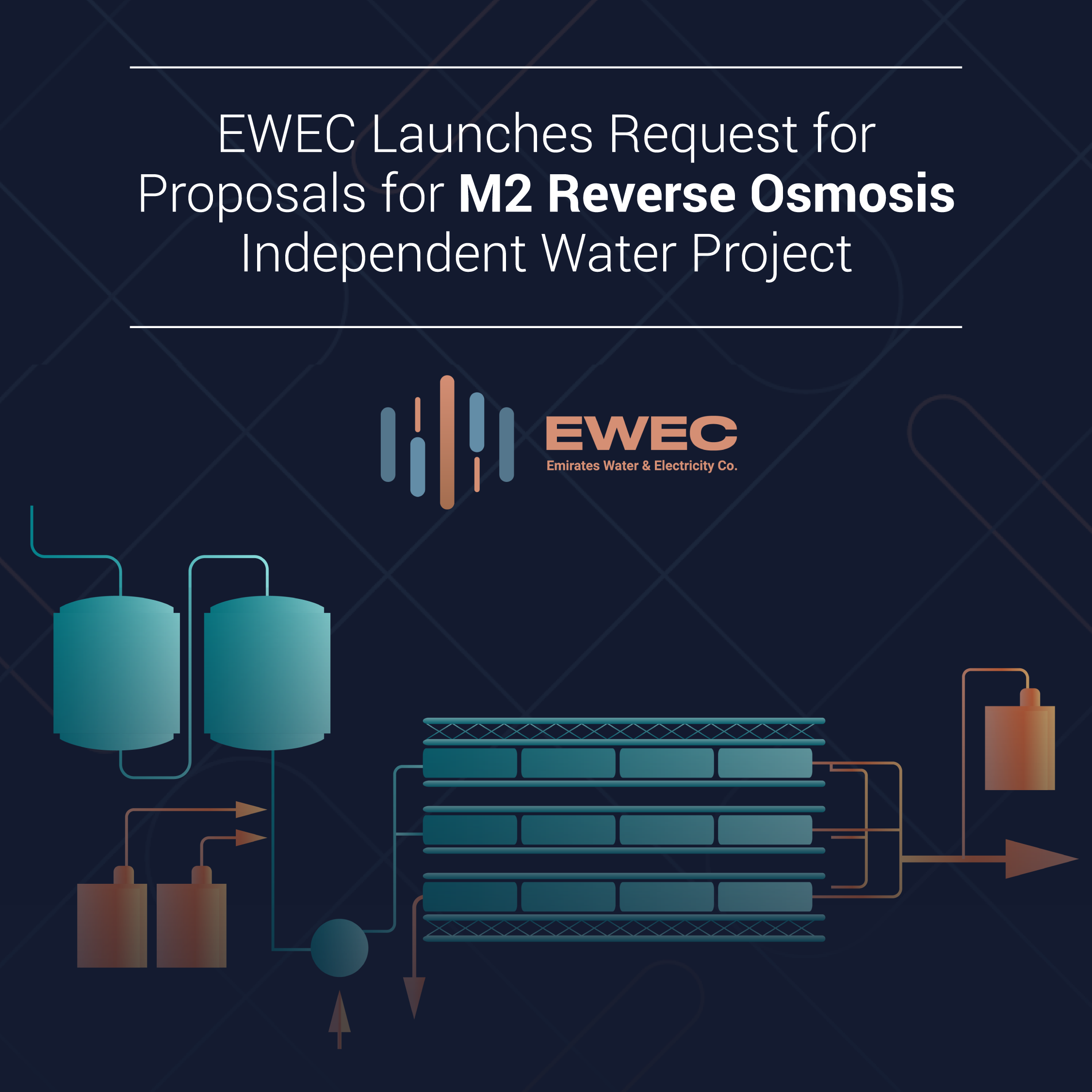 EWEC (Emirates Water and Electricity Company), a leading company in the integrated coordination of planning, purchasing and supplying of water and electricity across the UAE, has issued Request for Proposals (RFP) to qualified companies and consortiums that had expressed interest in developing the new Mirfa 2 (M2) Reverse Osmosis (RO) Independent Water Project (IWP).
M2 will desalinate seawater using RO, a low carbon-intensity technology, to produce up to 80 million gallons per day of potable water, sufficient to meet the water demand for over 140,000 households, and improve the security of water supply in the Emirate of Abu Dhabi. In addition, M2 will play a key role in increasing system efficiency and maixmising resilience, reducing the carbon intensity of the system, and support ongoing cost reduction initiatives in the sector through the use of competitive and efficient RO water desalination technology, and in line with EWEC's wider strategic initiative of decoupling Abu Dhabi's power and water generation capacity.
The RFP is being issued to bidders that had passed the qualification process following the Expression of Interest (EOI) stage that took place in February 2021. A total of 41 companies and consortiums submitted EOIs, while 22 companies and consortiums have pre-qualified for the RFP stage after submitting Statements of Qualification. The RFP provides detailed requirements and proposed technical parameters for the project to support companies and consortiums in their submission.
Othman Al Ali, Chief Executive Officer of EWEC, said: "The caliber and number of companies that pre-qualified for the M2 project is a testament to the interest and importance of developing low-carbon water desalination projects in Abu Dhabi, and the confidence companies have in EWEC's long-established and world lead project development model. M2 is a strategic project that will advance the decoupling of power and water production, improve the security of water supply, utilise the latest sustainable technologies, and decarbonise water production. We look forward to receiving proposals for this exciting project."
The M2 project is to be located adjacent to the existing Mirfa IWPP, and involve the development, financing, construction, operation, maintenance and ownership of a standalone brownfield RO seawater desalination plant with a capacity of up to 80 million imperial gallons per day of water output, together with associated infrastructure. The expected date for starting commercial operations is Q2 2025.
Responses to the RFP are expected by Q1 2022, following which EWEC will hold a public event to confirm the companies and consortiums who submitted proposals.
# # #
About Emirates Water and Electricity Company

Emirates Water and Electricity Company (EWEC) drives the planning, forecasting, purchase and supply of water and electricity in Abu Dhabi and beyond. EWEC performs its role as the sole procurer of water and electricity from independent producers, ensuring the short- and long-term balancing of bulk supply and demand for distribution companies. EWEC is part of ADQ, one of the region's largest holding companies with a broad portfolio of major enterprises spanning key sectors of Abu Dhabi's diversified economy. For more information please visit: www.ewec.ae.
For Media Enquiries, please contact:
Rima Ali
Communications Consultant
+971555910738