With its current production capacity, Taweelah RO is now the largest commercially operating Reverse Osmosis (RO) facility in the world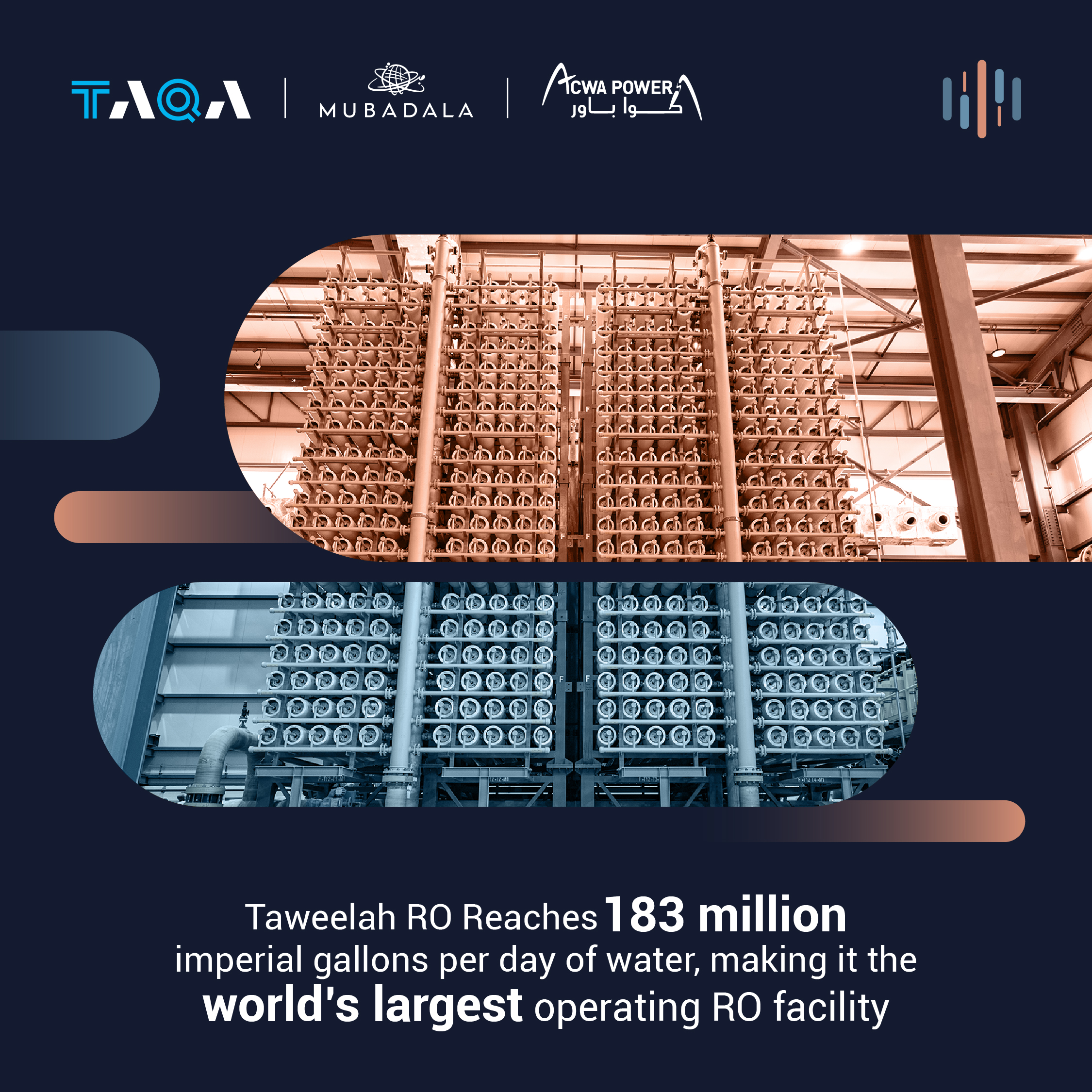 EWEC (Emirates Water and Electricity Company), a leading company in the integrated coordination of planning, purchasing, and supply of water and electricity across the UAE, has announced that the production of desalinated water using low-carbon intensive reverse osmosis (RO) technology from the Taweelah RO facility has surpassed 90 per cent capacity, producing 183 million imperial gallons per day (MIGD), equivalent to 831,935 cubic metres per day, of desalinated water. This makes Taweelah RO the world's largest operating RO facility.
Upon reaching full operations, Taweelah RO will supply 200MIGD, equivalent to 909,200 cubic metres per day of potable water. EWEC's adoption of low-carbon intensive RO water desalination technology is a key pillar of its strategic initiative to decouple water and power generation, as RO increases energy efficiency by 96 per cent when compared to traditional thermal desalination plants and reduces carbon emissions by more than 85 per cent. 
Othman Al Ali, Chief Executive Officer of EWEC, said: "Taweelah RO is part of EWEC's strategic shift of its water and power generation portfolio, supporting the decarbonisation of the energy sector in line with the UAE Net Zero by 2050 strategic initiative. We are proud of the collaboration with our partners that has enabled Taweelah RO to reach over 90 per cent of its water production capacity, making Taweelah RO the world's largest commercially operating reverse osmosis desalination facility. We plan an additional 290 MIGD of new reverse osmosis production capacity by 2027, and by 2030, 90 per cent of all water desalination will be produced using reverse osmosis, enabling an 88 per cent reduction in our carbon emissions associated with water production. EWEC's strategic investments in world-class, utility-scale transformative reverse osmosis water desalination facilities are enabling Abu Dhabi and the UAE to accelerate its journey into the next chapter of sustainability."
A major strategic pillar for the long-term decarbonisation of the water and energy sectors, low carbon-intensive water desalination is crucial to meeting the water demands of Abu Dhabi and the UAE while significantly reducing carbon emissions.
Taweelah RO is EWEC's fourth operational desalination plant with RO capacity, joining Mirfa 1, and the Fujairah F1 and Fujairah F2 hybrid water desalination and power plants. EWEC has also commissioned the development of four additional low-carbon intensive water production facilities, including Mirfa 2 RO, Shuweihat 4 RO, and two standalone RO water desalination plants as part of the Abu Dhabi Islands RO Independent Water Project.
Taweelah RO is owned by TAQA Group (20%), Mubadala (40%) and ACWA Power (40%), with EWEC procuring the water from Taweelah RO for the next 30 years as part of the Water Purchase Agreement signed in 2019.
# # #
About Emirates Water and Electricity Company
Emirates Water and Electricity Company (EWEC) drives the planning, forecasting, purchase and supply of water and electricity in Abu Dhabi and beyond. EWEC performs its role as the sole procurer of water and electricity from independent producers, ensuring the short- and long-term balancing of bulk supply and demand for distribution companies. EWEC is part of ADQ, one of the region's largest holding companies with a broad portfolio of major enterprises spanning key sectors of Abu Dhabi's diversified economy. For more information, please visit www.ewec.ae.
For Media Enquiries, please contact:
Jonathan Kearney
Communications Manager